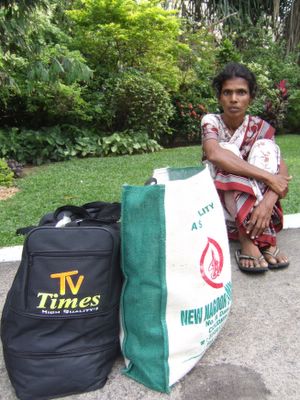 "My husband went to Colombo to undergo hernia operation. He wanted to come back to Jaffna after his operation. But the violence started to escalate and transport services stopped immediately without prior notice. Therefore he could not come to Jaffna. And we could not go to Colombo to see him. He wanted to see us, when he heard the news that, there is bombing and shelling in Jaffna. He was very worried about us. He passed away on August 24th 2006. He would not have died if we saw him. It's too late now. I am very sad that, I could not be near my dear husband, when he died" says Lalithadevi Alagarasa (49) from Puloly west, Point Pedro, who came to Colombo to attend her husband's funeral on Monday (August 28th 2006)
ICRC brings stranded to safety from strife stricken JaffnaT
he people of North and East were forced to flee their homes. There are 204,602 internally displaced people since April 2006, according to the United Nations High Commission. And the UNHCR says more than 20,000 people have been displaced within a week. Nearly 44,000 people are affected in Jaffna peninsula due to the recent violence, according to the UNHCR.
The first batch of foreign nationals and aid workers were evacuated from besieged Jaffna today, August 2006, International Committee of the Red Cross. 161 passengers sailed to Trincomalee from Point Pedro by ICRC chartered "Serunuwara 2". They were boarded in buses from Sinhala Maha Vidyalayam in Jaffna , and were taken to Point Pedro on August 26th 2006. They boarded the ferry at 6pm on August 26 th 2006, and anchored at 2.30am on August 27th 2006 . They were brought to Colombo by buses in convoys with ICRC escort.
There are five thousand registered at the Jaffna Kachcheri to come to Colombo. But the ferry could accommodate only few hundreds, and the priority was given to the people who need immediate medical attention, foreign nationals, and aid workers. The International Committee of the Red Cross is in discussion with the authorities to continue the ferry service, but nothing is confirmed yet.